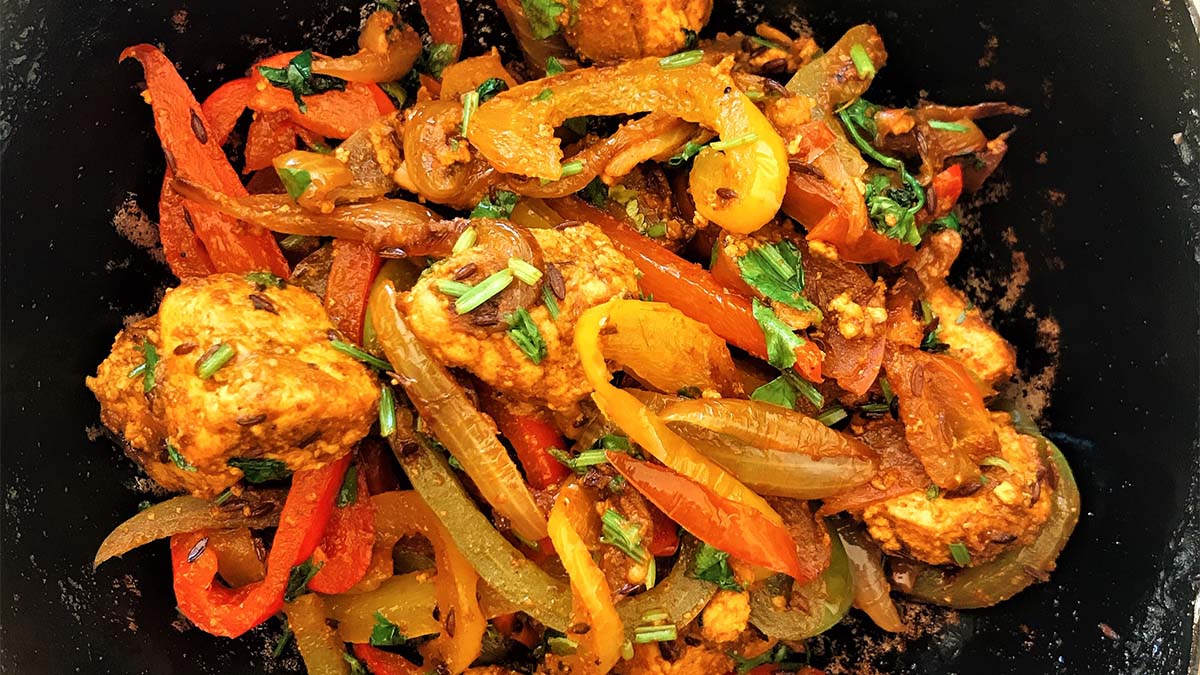 If you are not familiar with Paneer, its an unflavoured Indian cheese. It comes in a block format and can easily be found in most supermarkets. Paneer Jalfrezi includes bell peppers, onions and tomatoes. It consists of a main ingredient such as meat, fish, paneer or vegetables, stir-fried and served in a thick spicy sauce that includes peppers.
This dish originates from Bengal, but is hugely popular all over India. "jhal" means spicy food in colloquial Bengali and "porhezi" comes from the Persian word, parhezī meaning suitable for a diet.
The recipe below is a quick stir fry, packed with spices. Together with the caramelised onions, it enrobes the paneer to give you a sensational spice explosion called paneer jalfrezi.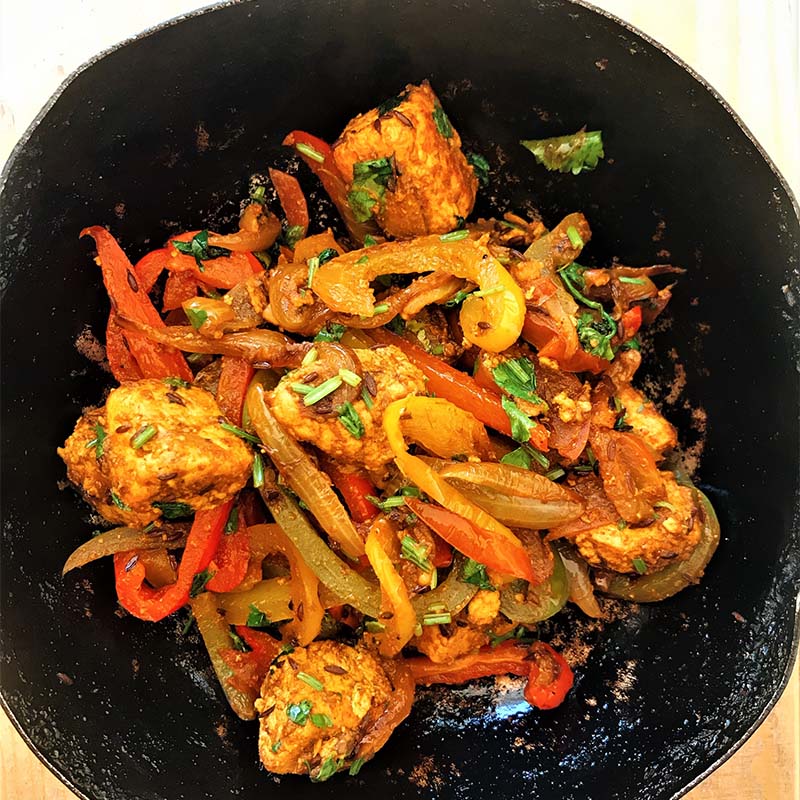 Paneer Jalfrezi Recipe
A spicy vegetarian dish, a firm favourite in our household!
Ingredients
2

tbsp

Vegetable Oil

2

cloves

Garlic

5

g

Ginger

3

g

Cumin seeds

100

g

onions diced or sliced

225

g

Paneer

185

g

Sliced bell peppers

40

g

Sliced mushrooms

15

ml

Lemon juice

1

handful

Freshly chopped coriander

Salt to taste

1

tsp

Dahl Spice Blend
Instructions
Planning & Preparation
Chop the paneer into cubes and soak in hot water for at least 20 mins.

Slice the onions, peppers and mushrooms.

Grate or finely chop the garlic and ginger.

Chop the fresh coriander.

Drain the paneer and place on kitchen towel to allow any excess liquid to be absorbed.
Method
heat the oil in a pan with a lid.

throw in the cumin seeds and ensure they sizzle away.

stir fry the onions for 1 minute.

next add the ginger and garlic, stir in and allow to cook on a medium heat for a couple of minutes till the onions are golden but not crispy.

add Dahl Spice Blend to the onions, coat well.

if the mixture begins to stick, don't be afraid to add a little water at this stage.

now add the paneer coat well, then the mushrooms again stir well.

allow to cook for 2 minutes, before you add the sliced peppers.

sprinkle some salt to your taste.

give the pan a good stir and let the flavours trickle through the paneer and vegetables.

squeeze some lemon juice at the end, a final stir and scattering of fresh coriander will make it a table worthy meal for any night of the week.
Notes
Paneer jalfrezi is just one type of jalfezi. You can use other substitutes such as chicken, prawns, cauliflower, butternut squash, potato. Though cooking times will vary depending on what you decide to use. I have added mushrooms in my version as I love them but you don't need to.
But the spices for this recipe